Hundred and third KGS Computer Go Tournament
Sunday June 1st, 2014
These results also appear on an official KGS page.
Rules
format
36-round Swiss
board size
9×9
rules
Chinese
komi
7
time
4 minutes plus 10/30s
Times
The first round started at 08:00 UTC.
Result table
In the table above,
0 is a loss
1 is a win
J is jigo
left superscript is the player's colour
right superscript is the round in which the game was played
a subscript shows how the result was determined:
R for resignation
T for time
F for forfeit
a number for the points difference after counting.
All the 0s, 1s and Js are links to the game record.

Black won 68 games, White won 72, and there were 3 jigoes.
Seven players registered. To make the numbers even and avoid byes, I included GNU Go, running on a single processor.
Results
This was an exciting tournament. Several programs were serious contenders for first place until near the end.
In round 1, CrazyStone was having problems, and was temporarily running on its operator's laptop and using the wrong settings. It joined its game with stv with only 100 seconds left on its clock, and lost the game.
In round 2, CrazyStone was still running on its operator's laptop with the wrong settings. It joined its game with NiceGo19N with 185 seconds left on its clock, and won.
In round 3 CrazyStone was running correctly on its 24-core server, and beat Zen19S.
Before round 4, Zen19S's operator changed its opening book.
MCark vs gnugo3pt8
Move 58
In round 6 MCark, with only 8 seconds left on its clock against gnugo3pt8, played move 58 in the position shown to the right. If instead it had played at a4, or passed, it would have won the game. But after the move shown, the game continued for another 8 (pointless) moves, then both players passed. Gnugo3pt8 marked the dead stones correctly, and if MCark had agreed it would have won. But it mismarked its own dead stones as alive, and the game entered the clean-up phase, during which it lost on time.
In round 11, Zen19S connected late, with only 80 seconds left, for its game with CrazyStone. It immediately disconnected again, and lost on time.
In rounds 12 and 13, Zen19S was present throughout its games with MCark and gnugo3pt8, and won both.
In round 14, Zen19S was absent throughout its game with stv, and lost on time.
stv vs CrazyStone
Move 37
In round 17, CrazyStone played move 37 against stv as shown to the left. This cannot be a good move. Admittedly, it is going to lose whatever it does.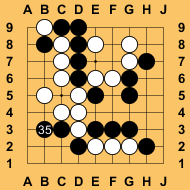 Fuego9 vs CrazyStone
Move 35
In round 18, CrazyStone played move 35 against Fuego9 as shown to the right. c2 must be a better move, though Black's position is probably still hopeless

Annual points
Players receive points for the 2014 Annual KGS Bot Championship as follows:
| | |
| --- | --- |
| Zen | 8 |
| Steenvreter | 5 |
| Crazy Stone | 3 |
| Fuego | 2 |
| Aya | 1 |
AyaMC

Aya, MC version, running on one machine: 980X 3.3GHz 6 cores.

CrazyStone

Crazy Stone, running on a 24-core server

Fuego9

Fuego, running on a 12 core Xeon X5670@2.93GHz

gnugo3pt8

GNU Go, version 3.8, running one thread on one i5-5200 CPU.

MCark

MC_ark, running on a Xeon E5-2450 2.10GHz 8core HT on*2cpu.

NiceGo19N

oakfoam, probably running on a mini cluster: i7-2600K + i7-920.

stv

Steenvreter, running on an AMD system with 46 threads at 2.2Ghz.

Zen19S

Zen, running on a mini cluster of a dual 10-core Xeon E5-2690 v2@3 GHz 32 GB RAM, a dual 6-core Xeon X5680@4 GHz 24 GB RAM, a dual 6-core Xeon X5680@3.8 GHz 12 GB RAM, and a 6-core i7 3930K@3.2 GHz 16 GB RAM. Computers connected via a GbE LAN. 50 cores total.