Hundred and twenty-seventh KGS Computer Go Tournament
Sunday November 13th, 2016
These results also appear on an official KGS page
Rules
| | |
| --- | --- |
| format | 12-round Swiss |
| board size | 19×19 |
| rules | Chinese |
| komi | 7½ |
| time | 14 minutes plus 10/30s |
Times
The first round started at 08:00 UTC.
Results table, Formal division
Excluding one forfeited game, Black won 14 games and White won 9 games.
Players
Three players registered for the Formal division and none for the Open division. I used gnugo3pt8 to make an even number and avoid byes.
One of the entrants was a new program to these events: CyberGo, written by Paul Hepperger, of Vienna, Austria.
Results
In round 1, gnugo3pt8 failed to respond to move 73. I closed it down and relaunched it, and it rejoined its game with LeelaBot, but did not make a move. I have never known it to hang like this before. It eventually lost on time.
In round 2, at 0832 UTC, gnugo3pt8 and I were both disconnected from the server. We reconnected easily, and gnugo3pt8 resumed its game with CyberGoBot. The other game was slow to resume, its players had also been disconnected. Some other human users, including AyaBot's creator HYamashita, also reported that they had been disconnected.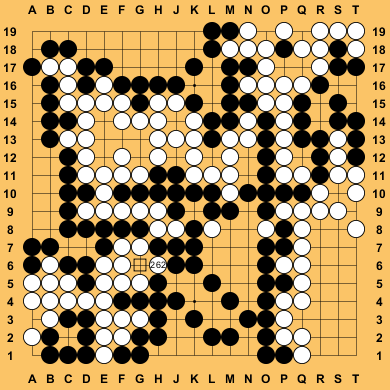 CyberGoBot vs LeelaBot
Move 262
In round 3, CyberGoBot tried to fight an unwinnable ko with LeelaBot, as shown to the right, and eventually lost.
In round 10, gnugo3pt8 again hung, against AyaMC. Closing and relaunching it caused it to resume play.
Annual points
Players receive points for the 2016 Annual KGS Bot Championship as follows:
| | |
| --- | --- |
| Aya | 8 |
| Leela | 5 |
| CyberGo | 3 |
| GNU Go | 2 |
AyaMC

Aya, running on one machine, and using Policy network + Value network.

gnugo3pt8

GNU Go, version 3.8, running one thread on one i5-5200 CPU.

LeelaBot

Leela running on an Intel Core i5-6600 + AMD Radeon R9 390.

CyberGoBot

CyberGo running on 1 core 1 thread on Phenom II X4 965 3.4 GHz.