Fiftieth KGS Computer Go Tournament
Sunday August 9th 2009
These results also appear on an official KGS page which links to the game records.
Rules
| | |
| --- | --- |
| format | 12-round Swiss |
| board size | 9×9 |
| rules | Chinese |
| komi | 7½ |
| time | 9½ minutes plus 25/20s |
Times
The first round started at 08:00 UTC.
Result table
| place | name | wins | SOS | SoDOS |
| --- | --- | --- | --- | --- |
| 1st | AyaMC | 10 | 69 | 52 |
| 2nd | ManyFaces1 | 9 | 72 | 44 |
| 3rd | Fuego04nw | 8 | 75 | 37 |
| 4th | Orego | 5 | 66 | 8 |
| 5th | SimpleBot | 4 | 69 | 5 |
| 6th | WeakBot50k | 0 | 81 | 0 |
Jacques Basaldúa entered a build of Fuego, which played as Fuego04nw. He is not an author of Fuego, but its source code is publically available, so I welcomed this. In general I will welcome such third-party entries for programs whose code or executable is legally available, including Fuego, Leela, GNU Go, MoGo, etc.
Break tried to enter, but its account 'break' on KGS had expired. I warned its author of this, but heard nothing from him. I see now that he created an account 'break9' on August 1st, but this account was not used on the day of the tournament.
Aloril entered SimpleBot, WeakBot50k, and Idiotbot, and asked me to remove IdiotBot if it would make the numbers even.
Comment
My internet connection went down in round 1, and was restored in round 4. This had no effect at all on the tournament. In fact, all the games went very smoothly: no program lost on time, no program tried to make an illegal move, all the programs agree on the statuses of all the groups after two passes, so no clean-up phases were necessary.
I would like to congratulate the participants on this: not only is their playing strength continuing to improve, but their behaviour is improving.
However, I still hope to welcome new participants. If you have a bot which you do not trust to do the clean-up right, please, still enter it. You will learn about the various things that can go wrong, and it's better to learn in one of these events than in a more serious tournament.
Results
In the first five rounds, each pair of programs played once. AyaMC won all five games, ManyFaces1 won 4, Fuego three, Orego two, and SimpleBot one. SimpleBot may have suffered from a time management bug in games 2-4, after which it was fixed.
In the next five rounds, ManyFaces1 and Fuego played each other twice, as did SimpleBot and WeakBot50k, while ManyFaces1 did not play WeakBot50k and Fuego did not play SimpleBot. Each pair of programs played once. ManyFaces1 and Fuego each won one game against the other, both beat AyaMC, Orego won two games, and SimpleBot beat WeakBot50k twice.
In round 11, AyaMC beat Fuego, ManyFaces1 beat WeakBot50k, ans SimpleBot scored its fitst win against a program other than WeakBot50k, beating Orego.
At the start of round 12, AyaMC and ManyFaces1 were tied for first place, each with seven wins from nine games. They were drawn against each other, so the winner of their game would be the winner of the tournament. After a complicated game SGF with a competently-fought ko fight, this was AyaMC. As expected, Fuego beat SimpleBot and Orego beat WeakBot50k.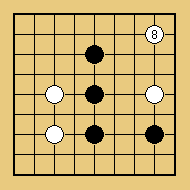 AyaMC vs ManyFaces1
Move 8.
In the round 3 game betwen AyaMC and ManyFaces1 SGF, AyaMC played move 8 in the position shown to the right. This is not a move which would occur to many human players; but it took the game into the yose, and allowed AyaMC to win by 2½ points.
Fuego04nw vs ManyFaces1
Move 32.
Move 68.
In the round 10 game betwen Fuego04nw and ManyFaces1 SGF, Fuego04nw played move 32 in the upper position shown to the left. This is an ordinary sane move which wins the semeai along the left edge, and won the game for Fuego. However, it later seemed to lose interest in the semeai, preferring to make enough territory at the right to win by 2½ points.
Finally ManyFaces1 resigned, after Fuego04nw's move 68 in the lower position shown to the left. Fuego04nw had used 29 seconds for its previous move, and now had only 15 seconds remaining before running into the very severe overtime. An unscrupulous, and time-aware, Black player might have played on in this position, hoping to win on time. But I don't think any Go-playing program considers such possibilities.
AyaMC

Aya, running on AthlonX2 2.3GHz 1CPU (2 cores on 1CPU)

Fuego

was running on an overclocked (3.6 GHz) i7.

ManyFaces1

Many Faces of Go, running on a 32-core Xeon 3.2GHz: 4 nodes, 8 cores per node, connected by a 40Gbps network

Orego

running on 2 x 3 GHz Dual-Core Intel Xeon

SimpleBot

Linux, one processor of a 4GiB RAM, AMD Athlon(tm) 64 X2 Dual Core Processor 4000+, shared with WeakBot50k

WeakBot50k

Linux, one processor of a 4GiB RAM, AMD Athlon(tm) 64 X2 Dual Core Processor 4000+, shared with SimpleBot