Sixty-ninth KGS Computer Go Tournament
Sunday March 6th 2011
These results also appear on an official KGS page which links to the records of all the games.
Rules
| | |
| --- | --- |
| format | 10-round Swiss |
| board size | 13×13 |
| rules | Chinese |
| komi | 7½ |
| time | 19 minutes plus 10/30s |
Times
The first round started at 16:00 UTC.
Result table
Fifteen players registered. IdiotBot was removed before the start of round 1, to make the numbers even.
Results
In round 2, gomorra3 and SimpleBot both passed, and then failed to agree on which stones were dead. Nothing further happened. The game was a clear win for gomorra3, so I assigned it the win. I then killed the game (if I assign a win and don't kll the game, the players remain in it and don't join their game in the next round).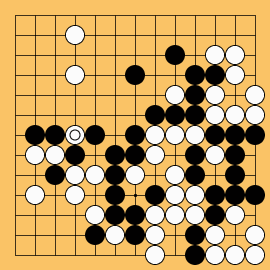 CzechBot vs pachi2
Move 80.
In round 3, gomorra3 joined its game with Zen13, but did not make a move. I alerted its owner, who was able to restart it, but with less than four minutes left on its clock. It lost to Zen13.
Also in round 3, CzechBot made the move shown to the right. I assume this is another example of an MC program playing a forcing move when no move has a significant chance of winning, something I have mentioned in previous reports.
After round 3, Zen13 and ManyFaces1 were the only players on three wins.
In round 4, Zen13 beat ManyFaces1. Break stopped moving late in its game with AyaMC, after all its stones were dead, and lost on time.
In round 6 break13 and coldmilk had a problem in the clean-up phase. Break13 marked its one-liberty group as alive, coldmilk accepted this and won anyway.
EricaBot vs Zen13
Moves 1-26
In round 7, Zen13 as Black made some unreasonable-looking contact plays against EricaBot, as seen to the left. User "gogonuts [5d]" (Stefan Kaitschick) commented "having those attachments turn out badly satisfies my sense of justice", and later "Erica deserved to win against zen. Played best against the attachment overplays, but then zen fought erica down".
After round 7 Zen13 was on seven wins, two wins ahead of the next player.
CzechBot vs coldmilk
Moves 137 & 138
In round 9 CzechBot, as Black, had a close game against coldmilk, when it failed to protect against a ko. As soon as coldmilk started the ko, as shown to the right, CzechBot resigned. It is posible that it was "aware" of the ko but needed the extra point on the right edge to be ahead.
In round 9 pachi2 beat Zen13. This was Zen13's only loss of the tournament, but it was still the clear winner.
Players receive points for the 2011 Annual KGS Bot Championship as follows:
| | |
| --- | --- |
| Zen | 8 |
| pachi | 5 |
| Many Faces of Go | 2 |
| Erica | 2 |
| StoneGrid | 2 |
AyaMC

Aya, running on 6 cores of an i980X 3.3GHz

break13

break, probably running on a single processor Intel(R) Celeron(R), 1.7Ghz

coldmilk

coldmilk, running on a 12-core Xeon, 2.26GHz

CzechBot

MoGo, running on an 8-thread i7 920, 6GiB RAM

EricaBot

Erica, running on an i7-950, 4 cores processor of 3.07 GHz.

gomorra3

Gomorra, running on a cluster of 4 nodes with 12 cores each, thus 48 cores. Cores are running at 2.67 Ghz. Nodes are connected through 4xSDR InfiniBand.

ManyFaces1

Many Faces of Go, running on 12 cores.

Orego12

Orego, running on one of the five nodes of a custom Linux cluster build by PSSC Labs: the node has two AMD Six Core Dual Opteron 2427 2.2 GHz (12 cores total), 8 GB RAM, Centos Linux.

pachi2

pachi, running on 64 unspecified 20-core platforms.

PNUGo

GNU Go, running on a 2-core system, probably a Core2 Duo E7200 2.53GHz

SimpleBot

running on Linux, 8GiB RAM, AMD Athlon(tm) 64 X2 Dual Core Processor 4000+

StoneGrid

StoneGrid, running on an Intel Core2 Quad Q9400 (2.66GHz, 6MB L2, 1333Mhz FSB)

WeakBot50k

running on Linux, 2GiB RAM, Intel(R) Celeron(R) M CPU 530 @ 1.73GHz

Zen19

Zen, running on a Mac Pro 8 core, Xeon 2.26GHz